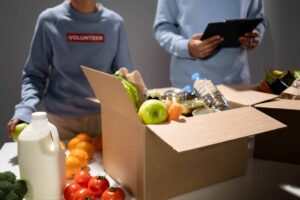 Community Service is the lifeblood of Exchange. Exchange Clubs all over the nation invest countless hours and resources each year to enhance their local communities. Remarkably, many of the initiatives under the Program of Service share the common goal of benefiting our communities. So, you may wonder, why have a distinct category called Community Service? Well, while the programs listed under Child Abuse Prevention, Youth, and Americanism are tailored to specific facets within the community, the following projects have a more comprehensive scope, designed to benefit every member of the community.
The history of Exchange's community service projects is truly remarkable. Since the first group of Exchangites gathered in Detroit, Michigan in 1911, Exchange has remained steadfast in its commitment to improving communities through diverse projects. Over the years, Exchange Clubs have played a pivotal role in a wide range of community enhancements, including cleaning up highways, sponsoring cultural programs, art exhibitions, and industrial shows, as well as supporting state and county fairs, festivals, rodeos, and athletic events. These clubs have also contributed millions of dollars towards scholarships, gifts, equipment, sponsorships, educational initiatives, and various charitable causes.
Our Club has printed materials to assist community partners in their efforts to better their communities through our Programs of Service.  Please Contact Us for more information.
Fundraising Projects in Progress